Anti Aging Moisturiser Eye Serum/Gel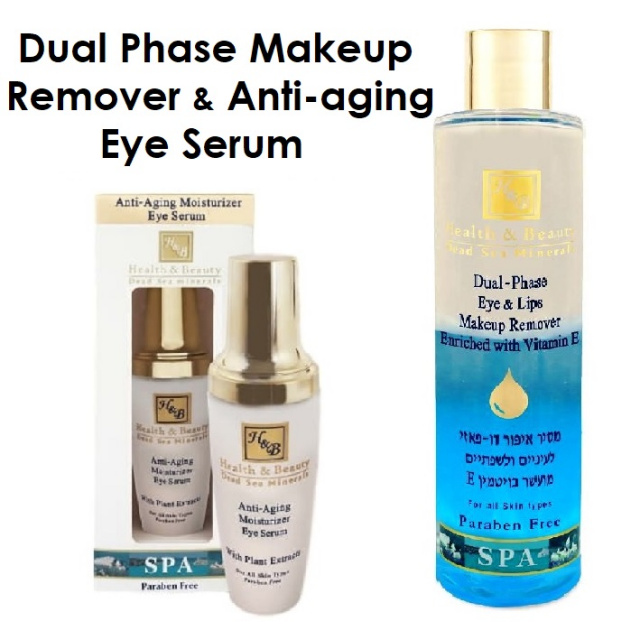 The Anti-Aging Eye Serum is a high quality concentrated eye serum, with a clear and delicate texture, which has been developed to fight off puffy bags and dark circles around the eyes. It is quickly absorbed and provides the skin an immediate lifting effect. The serum contains moisturizing agents, such as Aloe Vera extracts and Chamomile for relaxing the skin and reducing morning swelling around the eyes, Carrot oil, Olive oil, Rose Hip oil and Dead Sea minerals, which altogether effectively prevent wrinkling and dark circles by smoothing out the area around the eyes.
Instructions of use:
Apply In the morning and before going to sleep a few drops on eyelids and under the eyes, massage gently with finger pads and then apply cream.
Size: 50ml
H&B Dual Phase Makeup Remover with Vitamin E
A dual-phase formula which removes all types of makeup including water resistant makeup. the upper phase contains vitamins E + B5 and delicate silicones that dissolve and evaporate immediately after use and easily remove all types of makeup including lipstick. The bottom phase is based on water enriched with essential minerals from the Dead Sea and moisturizing and soothing ingredients such as witch hazel and chamomile to complement the cleaning and soothe to the skin.
When mixed, the two parts unite into a highly efficient liquid makeup remover.
Instructions for use:
Shake well before use, clean each eye separately with moist pad and gently remove. On lips clean with a moist pad and rinse with cool water.
Size: 250ml