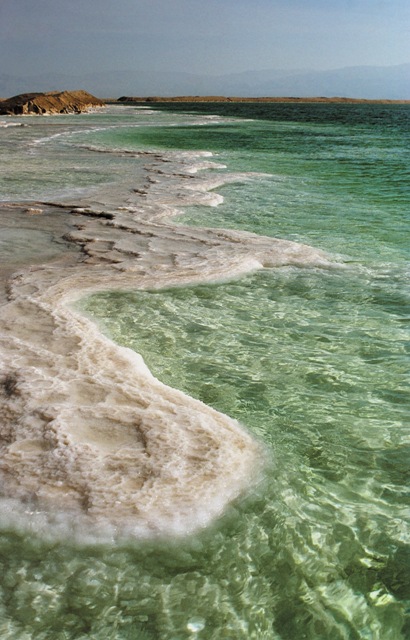 The Dead Sea - A Source of Life

The natural riches of the Dead Sea, well-known since ancient times, provide climatotherapy for a wide variety of ailments.
by Lili Eylon
Cleopatra obtained exclusive rights over the area and had pharmaceutical and cosmetic factories built there, the remains of which can still be seen today. The ancient Romans called the sea Lacus Asphaltites and rich citizens had containers of its water brought back to Rome. Israelis call it Yam Hamelach - the Salt Sea. Today a large number of medical and other tourists are drawn to the special climatic, geographic, historical and balneological attractions of this region.
The Dead Sea, in fact, is dead - it harbors no living flora or fauna. But for thousands of people from all over the world who come to get a cure at one of its spas, this body of water spells health and quality of life.
Helen is a 23-year-old native of a town in Germany's Black Forest. "I have been coming to the Dead Sea for the past 10 years," she explains. "You see, I suffer from atopic dermatitis," she says, pointing to red blotches on her neck and swollen parts of her face, manifestations of this ailment. "Coming here helps me - all this disappears for a few months. But then, later, at home, it all comes back again. So this time, I decided to spend a year here."
Many of the hotel guests - suffering from a skin disease, an arthritic ailment or breathing difficulties - follow the same sunning and bathing regime. The results for Dead Sea treatment of psoriasis are consistently good, explains Prof. Zvi Even-Paz of the Hadassah-Hebrew University Hospital's Dermatology Department, who immigrated from England fifty years ago.
Today a consultant to the Dead Sea Medical Research Center, Prof. Even-Paz recalls the beginning of Dead Sea health treatments, when it took seven hours to travel to the area from Jerusalem; today it is a half hour's drive. "In those days the place looked like a moonscape - no plants grew here and there were no electricity or telephone lines. We decided to conduct a study on 100 patients involving only the use of thermal springs. And even in those early pilot experiments, psoriasis treatment turned out to be very successful."
The Dead Sea is a terminal lake some 80 kms long, 17 kms wide, and 330 meters deep at its deepest point. it is fed by waters from the Jordan River to the north, from a few perennial springs and from flash floods. The Dead Sea contains a high concentration of salts and minerals - calcium, potassium, magnesium and bromine - more than in any other body of water on the face of the earth - in fact, seven or eight times more than in the oceans. The area boasts dry, virtually non-polluted air, warm temperatures and minimal rainfall all year round.
The healing formula is a combination of natural elements: sea, sun, air and mud. The Dead Sea waters, the sunlight with its ultraviolet radiation weakened by filtering through the air to a region 400 meters below sea level, therapeutic mineral mud, high barometric pressure with consequently higher oxygen content, and sulfur pools - all this is highly beneficial to people suffering from a variety of skin, rheumatic, arthritic and pulmonary diseases. And the combination is unique - it exists solely at this spot on the globe. Moreover, Prof. Even-Paz says, the Dead Sea climatotherapy has almost no damaging side effects.
A number of studies into the health benefits of the Dead Sea - a cost-effectiveness survey in England, and a follow- up remission study in Germany of psoriasis patients have been or are being carried out. Still, Prof. Even-Paz stresses the need for even more studies and analyses, and Dr. Abels, who has been working at the Dead Sea for the last 10 years, agrees that more research is needed. "This alternative treatment is based on sound scientific principles," he stresses, "but we would like to see some more information, including more follow-up data." He says some 30,000 men, women and children spend 3-4 weeks each year at one of the many luxury hotels in the area undergoing treatments at one of the six clinics in the area. Psoriasis sufferers account for some two thirds of the patients. Some 60% of the patients each year are new, while 40% are repeat visitors.
Dr. Harari, head of one of the six clinics, stresses the cost effectiveness of a Dead Sea psoriasis treatment. For a European patient the cost of a four-week stay - flight, hotel, cure - is about $3000. For citizens of at least three countries - Germany, Denmark and Austria - the treatments are paid for or subsidized by their governments. Of the various dermatological treatments available, the Dead Sea treatment results in the longest remission time - 5-8 months - and recurrence is more likely to be in milder form. He adds that many of the 1.5 million psoriasis sufferers in Great Britain and the 6-8 million in the United States are not aware of the advantages of Dead Sea therapy.
Rheumatic ailments have been found to be greatly relieved by the use of the Dead Sea mud. The mineral-rich mud, actually an alluvial sediment containing organic remains of algae mixed with Dead Sea salts and minerals, is used in packs. It can also be smeared directly onto the face and body - stimulating, cleansing and invigorating the skin.
This black mud has also been found to have cosmetic value. Following in the footsteps of Cleopatra, today more than 50 modern cosmetic plants manufacture cosmetics and skin-care products, such as moisturizers, nourishing cream, shampoos, foot and hand creams, sun protection creams and soaps - all based on minerals from the Dead Sea.
The natural oxygen enrichment of the air in the Dead Sea area aids the breathing of patients with respiratory problems. Some of the diseases that may be alleviated by treatment at the Dead Sea are chronic obstructive lung disease (COPD), cystic fibrosis, chronic bronchitis, emphysema, pulmonary fibrosis, asthma and pulmonary hypertension. Patients at the Dead Sea also find themselves in an environment which promotes relaxation and reduces the stress often related to the onset or aggravation of disease. Patients find themselves in the encouraging company of a large number of "fellow sufferers," which alleviates social strain. Altogether, the visitor feels that he is detached from the humdrum of everyday life and enjoys a pleasant - not only healthful experience in unique surroundings.
This is an article reproduced in full from: Israel Ministry of Foreign Affairs