You always hear so much about face shapes and how so much of what you wear and how you do your hair should revolve around your face shape for the most flattering look, but how do you know what your face shape actually is?
Before you can determine your face shape, pull out a measuring tape (or ruler) and take a few numbers on the dimensions of your face.
Measure
Across the cheekbones
Jaw line from widest point to widest point
Forehead from the widest points
Tip of hairline to the bottom of chin
Now that you have these measurements, it's a breeze to discover what your face shape is.
Oval: You have an oval face if your length is equal to one and a half your width.
Round: You have a round face if it's as wide as it is long.
Rectangular: You have a rectangular face if it's longer than it is wide (don't get this confused with an oval face)
Heart: You have a heart-shaped face if it's pretty narrow at the jaw and broadens as you move upward.
(other shapes can be described as long, square, pear, triangle, diamond...)
Another idea is to pull your hair back (off your face)... take a digital photo of yourself, and compare it with the image below. You could go a step further and using a programme like MSPaint "black out" your face & remove your hair from the photograph...
Now that you know your face shape, finding the best accessories and discovering the best way to do your hair is simple to figure out; you'll be a knockout in no time!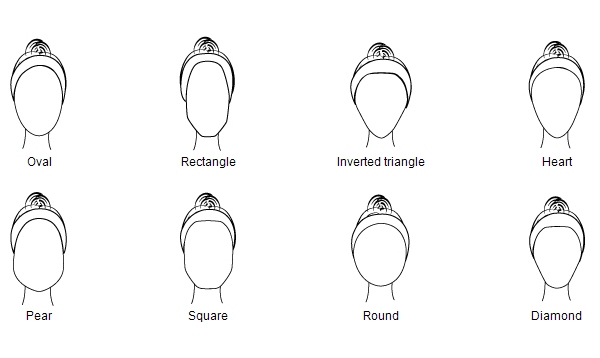 information and images obtained from these websites: