| | |
| --- | --- |
| Price: | $38.00 |
| Availability: | in stock |
| Prod. Code: | RHB265 (x1) |
H&B Dead Sea Salts
1.2 kg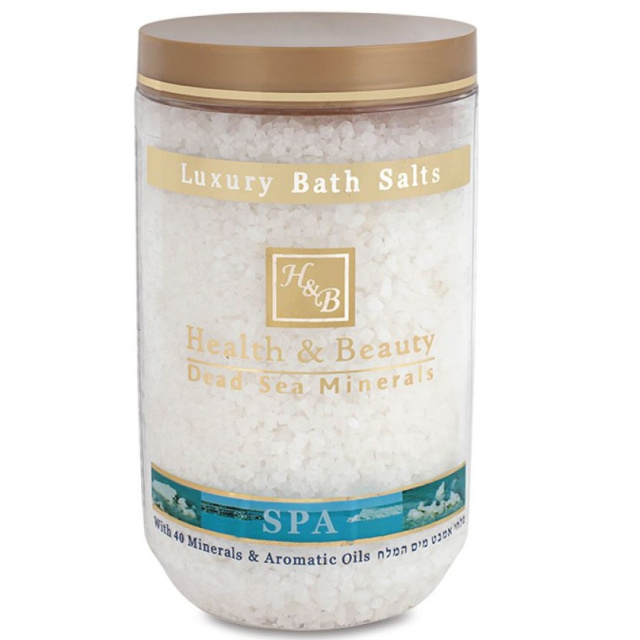 Buy 3 & get 10% off !!

The Dead Sea is highly concentrated with salts, 10 times higher than other sea salts. The Dead Sea salt is unique in its chemical composition, and includes over 20 different types of minerals such as Calcium, Potassium, Magnesium, Zinc, Iron, Iodine and more.

This Luxury Bath Salt is 100% natural and most recommended for treating rheumatic pains & skin problems.

Furthermore, it is highly effective in treating swollen feet, ingrown nails, fingernail fungus and hemorrhoids. It provides relief for aching muscles and a wonderful feeling of rejuvenation.
Instructions for use:
Dissolve one cup of bath salts in a bath of warm water, bathe for 15 minutes, clean with soap and tepid water.
For feet treatment: dissolve 1/2 cup of bath salts and bathe the feet for 10 minutes, dry them well and apply foot cream.
Suitable also for use in a Jacuzzi/spa.
Ingredients:
Water of crystallization (Aqua), Magnesium Chloride, Potassium Chloride, Sodium Chloride, Calcium Chloride, Magnesium Bromide, Insoluables.